Marc H. Crane
Last Employer: R E T I R E D !! !! !!
---
Quote for the day:
" Public confidence in the integrity of the Government is indispensable to faith in democracy and when we lose faith in the system, we have lost faith in everything we fight and spend for."
-- Adlai E. Stevenson

" Character is doing what's right when nobody's watching"
-- Congressman J.C. Watts

" The point to remember is that what the government gives, it must first take away."
-- John S. Coleman

" A government big enough to supply everything you need, is big enough to take everything you have."
-- Thomas Jefferson

---

Connect to Communications bill censorship of the Internet .


Connect Netmanage, Inc. Web Page


Welcome to the LOS ANGELES (Information Home Page)
Links to other Web Pages on the Internet
Why the Internet went BLACK for 48hours (Black Thursday).
To error is human - to screw it up real good you need a Computer !!!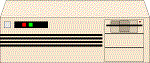 cranem@addendum.com Personal E-Mail
Copyright © 2021 Crane & Associates

Return to The ADDENDUM Home Page